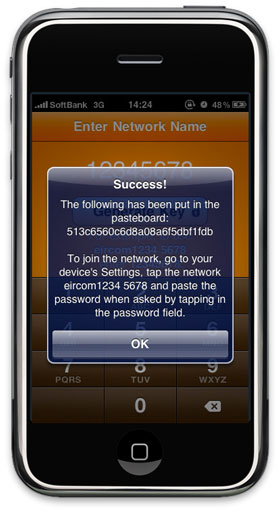 dessid

Recover your Eircom wireless internet password with this handy utility app!
---
"The Irish Times yesterday downloaded dessid and was able to get the password for an Eircom network used for testing in our offices." — The Irish Times, 6 Nov 2009
"I like it" — Olivia
---
If you have any trouble with dessid, please use the support email address below before leaving a negative review.
If it does not work, it is because your network is already secured. Don't be disappointed: secure networks are good.
The "pasteboard" is your iPhone's "clipboard". When asked for your password, tap in the password field and tap "Paste".
---
Tired of entering long strings of random characters whenever you need to connect a device to your network? Recover your Eircom wireless internet password with this handy utility app!
Enter a network name and the password can be copied into the pasteboard.
Once the password is in the pasteboard, it can be pasted into the password field when joining the network from the iPhone/iPod touch Wi-Fi Settings.
LEGALITY
The point has recently been raised that this application could potentially be used maliciously to obtain unauthorised access to a Wi-Fi network. If your network password can be discovered with this application and you want to prevent others from accessing your network with dessid, please see http://wirelesssecurity.eircom.net/.
Please remember Eircom's own words: "[a] wireless system can ever (sic) be considered 100% secure." Not just Eircom networks, but any network with WEP encryption and many with WPA can be cracked. The Irish Times has reported that obtaining unauthorised access to a wireless network is a criminal offence in the Republic of Ireland, so please use dessid responsibly.
Note: This will only work with Eircom wireless routers with default settings. This covers most devices but not all.
Note: Neither this app nor the author is affiliated with Eircom in any way.